Welcome! We all remember our first logistics job - so much to learn and not enough time to learn it. We welcome you to use this guide whether it's your first day and you're kickstarting your career or it's your 1000th day and you're brushing up on a few topics.
The newtrul Education Center is meant to be an interactive and collaborative view of the industry and we would love to hear from you. Send us your thoughts, questions, or suggestions to feedback@newtrul.com. Happy learning!
Please note this content is for informational purposes only.
1. The Transportation Industry
The Key Players:

Shippers: The party that tenders goods for transportation; a company that produces physical products that need to be transported
Carriers: Companies that transport goods. Asset-based carriers own their equipment (tractors and trailers)
Third-Party Logistics Provider (3PL): A firm that provides multiple logistics services to customers. Among the services they provide are transportation, warehousing, cross-docking, inventory management, packaging, and freight forwarding.
Brokers: a company that arranges the buying & selling of transportation of goods. Brokers receive load tenders from shippers and contract asset-based companies to move the loads from origin to destination
Freight Forwarders: An organization that provides logistics services as an intermediary between the shipper and the carrier, typically on international shipments.
FMCSA: Federal Motor Carrier Safety Administration establishes laws and regulations for commercial transportation in the United States
DOT: The Department of Transportation is responsible for planning and coordinating federal transportation projects. It also sets safety regulations for all major modes of transportation.
Logistics and Transportation in the US



History: The trade and transportation of goods in the United States has been an integral part of society dating back to pre-revolutionary era. As the nation grew so did its' transportation capabilities, giving the country the ability to not only expand domestic trade, but internationally as well.

A few notable events that lead us to transportation as we know it include:

First Attempt to Build a Canal in North America - January 1, 1680

First U.S. Toll Road - January 1, 1794

Ford Model T - January 1, 1908

American Association of State Highway Officials - January 1, 1914

United States Shipping Act - January 1, 1916 -The Shipping Act of 1916 creates the Shipping Board to protect American exporters and importers.

Motor Carrier Regulatory Reform

and Modernization Act

- January 1, 1980-

President Jimmy Carter signs into law the Motor Carrier Regulatory Reform and Modernization Act, which allows trucking companies greater freedom over rates and other business decisions, while allowing for open entry of new trucking firms.

Logistics in the 21st Century

As of 2018, it's estimated that the United States logistics industry was $9.6 trillion and it is expected to reach $12 trillion by 2023. Trucking accounts for 43% of these logistics costs.

Industry Hot Topics



Environmental Impact:

According to the EPA, burning fossil fuels like gasoline and diesel releases carbon dioxide, a greenhouse gas, into the atmosphere. The buildup of carbon dioxide (CO2) and other greenhouse gases like methane (CH4), nitrous oxide (N2O), and hydrofluorocarbons (HFCs) is causing the Earth's atmosphere to warm, resulting in changes to the climate we are already starting to see today.

​Greenhouse gas (GHG) emissions from transportation account for about 28 percent of total U.S. greenhouse gas emissions, making it the largest contributor of U.S. GHG emissions. Between 1990 and 2018, GHG emissions in the transportation sector increased more in absolute terms than any other sector.
Green Initiatives: Recognizing the impact on the environment, companies across the transportation industry have been focusing on cleaner alternatives.

EPA's SmartWay: SmartWay has been creating programs to assist companies to measure and improve their freight transportation efficiencies. In 2004, there were 15 companies involved in SmartWay. Today, there are 3,700 companies and organizations involved in raising awareness about how the transportation industry can positively influence environmental policies.


The SmartWay Vision 2020 has four principal elements:
Complete the transportation supply chain
Sustainability reporting
Global collaboration
Information sharing
Anheuser-Busch Green Fleet: Anheuser-Busch introduced a "green fleet" to help them achieve their goal of reducing carbon emissions across its value chain by 25% by 2025. The brewer will be expanding this fleet and investing in technology to transition to cleaner-burning renewable natural gas. They have already transitioned 180 trucks to Renewable Natural Gas, which accounts for more than 30% of their fleet.
2. Equipment: Tractor-trailers
Standard equipment

Dry Vans: Ambient temperature used to haul non-perishable goods
Reefers: Refrigerated trailers used to haul perishable or temperature-sensitive goods
Flatbeds: A flat, open trailer with no sides or roof used to transport equipment, construction materials, goods that cannot fit inside a standard trailer
Straight Truck: Also known as a box truck, a smaller trailer used to transport smaller loads
Container: A stand-alone trailer used for intermodal shipments (ocean, rail, and road)


Trailers: Vans & Reefers

Size & Weight: While trucks and trailers come in all shapes and sizes, below are some of the most commonly used trailers.

Door Types:

Roll-up doors: A door panel on a track that retracts up along the roof of the trailer
Swing doors: Also known as "barn doors," preferred type of door because they do not restrict the space in the trailer

Axles: An axle is a rod or shaft that rotates the wheels and supports the weight of your vehicle. Most tractor-trailers have three types of axles to help distribute weight. In the United States, there are laws that regulate how much weight each axle can hold to ensure the load is safely and evenly positioned in the trailer.
Drivers can "slide the tandems" in their trailer- moving the tandem axle forward or backward to more evenly distribute the weight of a load.

3. Drivers
Truck drivers are responsible for delivering nearly everything in the room you're sitting in.

Truckers are the greatest- learn to love and respect them!

Local vs Over The Road: Local drivers typically drive within a 200-mile radius of their home base; whereas, Over The Road (OTR) drivers prefer longer mileage trips. Local drivers specialize in short transit loads (under 200 miles) or will complete the delivery for a long haul shipment for an OTR driver. In this scenario, the OTR driver completes most of the trip and drops the loaded trailer in a company truck yard close to the final delivery location. A local driver will then pick up the loaded trailer and bring it to the receiver to complete the load.
Owner Operator: Owner-operators are individuals who manage their own asset-based transportation business. They are usually responsible for both booking loads and driving the truck from pick up to delivery.
4. Packaging & Commodities
Key Terms

Pallets: Wooden (or sometimes plastic) platforms used to stack commodities for them to be transported

Cases: Packaging that contains a commodity, usually will be stacked on pallets to be loaded onto a truck

Dunnage: Packing material used to secure and protect commodities during transit. Some examples include

Airbags
Packing peanuts
Styrofoam


Bulkhead: Barriers loaded into a trailer to separate different commodities. They are often used to ship commodities at different temperatures in the same trailer. The items requiring the coldest temperatures will be loaded in the nose (closest to the reefer unit), followed by a bulkhead and then the next-coldest commodity

Securing devices: Items used to secure a load from moving during transit

Straps

Bars


5. Transit Time
Transit Time

: The amount of time it takes a driver to complete a trip from the origin to the destination. On average, drivers can safely and legally drive at 60 MPH for 550 miles per day.

Hours of Service (HOS)

: Hours of service, the amount of time a driver can legally drive before he or she is required to rest. It's crucial to consider hours of service when planning and scheduling loads to ensure that the driver can safely and legally make it to the destination on time
Team Drivers: When a load is expedited, it needs to deliver earlier than standard transit times will allow. A team of two drivers will work together in one trucl so they can take turns driving continuously. One driver drives while the other rests so they can switch roles when the other driver is required to take a break.
Appointment Setting: Many pick up and delivery locations require an appointment for loads to be loaded or received. When scheduling appointments at each stop, it is important to account for factors like hours of service and loading/unloading time so the driver can safely and legally complete the route.
Calculating Transit Time: This is not a perfect science! Many factors will affect the length of time for a load, such as weather, traffic conditions, local road, bridge detours, etc. You always want to be conservative when determining transit time to leave room for the unexpected. It's much better for a driver to be early than late. The following "formulas" can help provide an approximate transit time

Total miles / avg truck speed / 11 hours (max driving time) = transit in days

1500 miles / ~55 mph / 11 hours = ~2.5 days from pick up to delivery

Total miles / 550 miles = transit in days

1500 total miles / 550 miles per day = ~2.75 days from pick up to delivery

6. Types of Loads
Full Truck Load (FTL): One shipment occupies an entire trailer

Scaled out: the trailer is loaded to max capacity by weight ( ~45,000) before reaching its capacity by volume (pallet spaces)
Cubed out: The trailer is loaded to max capacity by volume before reaching its maximum legal weight

Less Than Truckload (LTL): Less than truck load, smaller shipments that do not occupy a full trailer. These are usually consolidated and shipped with other LTL loads to lower costs and increase efficiency
Partial Load:

A shipment that does not require the space of a full trailer but ships on one truck for the duration of transit, rather than being processed through terminals like an LTL shipment.

Drayage: The transportation of ocean or rail containers from ports or rail yards to local warehouses (usually within 150 miles). Dray carriers typically shuttle containers back and forth multiple times a day
Rail: Shipments that are transported by train. Containers will typically require a drayage carrier to move the container from the rail yard to a warehouse for further distribution.
Ocean: Shipments that are transported by ship. Will typically require a drayage carrier to move the container from the port to a warehouse for further distribution.
Air: Shipments that are transported by plane
Intermodal: Transporting freight using two or more modes of transportation, i.e. truck and rail, ocean and truck, etc.
Expedited:

A shipment that must deliver sooner than standard transit times will allow. This is achieved by using team drivers.

7. Rates
Contracted: Contract rates, which comprise roughly 80% of the trucking market, are based on an agreement between a shipper of goods and a transportation provider (asset or non-asset based) for a specific origin and destination and an estimated volume.
Transactional: Spot rates, which make up the remaining 20% of the trucking market, are based on the current supply and demand for trucks and are for one-time or inconsistent load volumes for specific origins and destinations. The spot market is significantly more volatile than the contract market because spot trucking rates are negotiated on a lane-by-lane, load-by-load basis and load specifications can vary wildly. Spot market loads are often same day loads from shippers who offer loads at inconsistent times or on low traffic, inconsistent lanes.
Accessorials: Additional charges that may result from extra equipment or services required during a load. Common accessorials are:

Lumper: Loading or unloading fees, typically a service company that you pay at the dock that is contracted by the shipper or receiver
Detention: An hourly fee that is paid out to carriers for excessive time waiting at a pick-up or delivery. There is typically a 2 hour "free period" before hourly charges begin. A typical detention charge is an hourly rate billed in 30-60 minute increments. On average, detention rates range from $50-$75/hour.
Layover: A flat fee that is paid out to carriers if they must wait overnight or for more than 12 hours at a pick-up or delivery. A typical layover charge is $150-$300.
Truck Ordered, Not Used (TONU): A flat fee that is paid out to carriers when a shipment is not available to be loaded on the day a carrier was assigned to pick it up. Typically, $250
Stop Off Charge: When an extra pick up or delivery is added during transit, a stop off fee will be paid to the carrier. While the stop off fee is typically $50, the owner of the shipment will also need to consider extra miles
Out of route miles: A per-mile charge that is applied when a carrier needs to make an additional stop that deviates from their route. Events like an extra stop or a weigh station requirement could result in an out of route miles charge

Fuel Surcharges (FSC): A flat rate based on the current average fuel price that allows the cost of fuel to be incorporated into shipping rates. A contracted rate will often be broken down into Linehaul + FSC, with linehaul representing a flat minimum rate that the carrier is guaranteed.
A fuel table can help determine the appropriate fuel surcharge: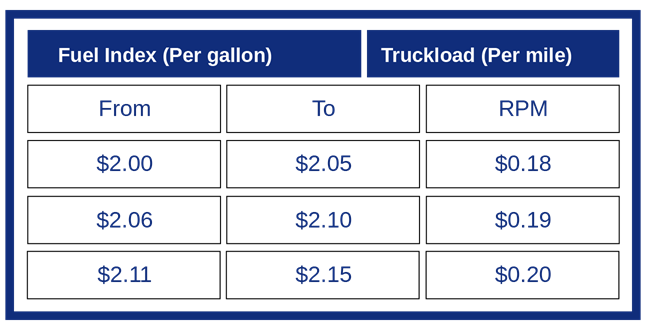 Example: A rate from Chicago, IL to Los Angeles, CA is $3000 + FSC
Line Haul: $3000
Total Miles: 2015 miles
Current Avg Fuel Price: $2.08/gallon
Current Fuel Rate: $0.19/mile
FSC: 2015 miles * $0.19 = $382.85
Total rate = Line Haul + FSC
Total rate = $3000 + (2015*0.19)
Chicago, IL to Los Angeles, CA = $3382.85

8. Systems
Transportation Management System (TMS): A computer system used by shippers and brokers to manage their transportation activities, including load planning, shipment scheduling, inbound and outbound trucking needs
Fleet Management System (FMS): A computer system used by asset trucking companies to manage their trucks, drivers, and shipments
Warehouse Management System (WMS): A computer system used by shippers to optimize warehouse operations, including shipping, receiving, and inventory counts

9. Laws & Regulations
Weight: Commercial trucks are limited by federal regulation to a maximum loaded weight of 80,000 pounds including cargo, so the actual amount of cargo a big rig can carry depends on the type and weight of the truck when empty. Below are APPROXIMATE maximum legal weights.

Flatbed trailers: can load up to 48,000 pounds of cargo
Dry vans trailers: 44,000 to 45,000 pounds
Refrigerated trailers or reefers: 42,500 to 44000 pounds.
Find more information about weight limits from Freight Waves: How Much Can A Big Rig Carry?

Hours of Service:

the amount of time a driver can legally drive before he or she is required to rest.

Full list of FMCS Hours of Service Rules HOS Rules
ELDs: The electronic logging device (ELD) rule – congressionally mandated – is intended to help create a safer work environment for drivers, and make it easier and faster to accurately track, manage, and share records of duty status (RODS) data. An ELD synchronizes with a vehicle engine to automatically record driving time, for easier, more accurate hours of service (HOS) recording.

10. Technology
Tracking: The most important question that can be asked during transit is, "Where's my shipment?". While there is still a lot of manual intervention in answering this question, many companies now offer digital tracking. Through cell phone data and GPS location services, a truck can be tracked in real time, allowing the customer to plan with pinpoint accuracy. Oftentimes, this technology requires drivers to use smart phones in order for the tracking to work.
Digital Brokerages: These companies leverage proprietary technology to offer more efficient brokerage services to shippers and carriers. Usually equipped with in-house developers, these companies are focused on introducing automation and increased visibility into a traditionally antiquated industry. While they're able to offer a wider range of products, their primary purpose is the same as most traditional brokerages: transport goods from point A to point B. Some examples of digital brokerages include:

Transfix
Uber
Convoy
Arrive

Smart Load Boards: These digital load boards go beyond the traditional boards by offering automated recommendations based on preferences, instant-booking capabilities, and increased visibility.

Keep Truckin
Trucker Tools
Cargo Chief

Load Matching Tools: These companies use data analysis and algorithms to alert carriers of available loads that meet their needs or preferences. These tools will often use automated email outreach to notify users of potential matches
Neutral Marketplaces: These companies provide proprietary APIs that aggregate available freight into a single booking platform for carriers to search through and digitally book.
Electronic Logging Devices (ELD): An ELD synchronizes with a vehicle engine to automatically record driving time, for easier, more accurate hours of service (HOS) recording.
Electronic Data Interchange (EDI): Intercompany, computer-to-computer transmission of business information in a standard format. Most commonly used for load tendering and tracking purposes

11. The Life of a Load

Tendered: A shipper sends a shipment, via email or EDI, to a broker or carrier, for pickup. The tender will include load details such as origin, destination, commodity, weight, equipment requirements, and handling instructions.



Scheduled: The party responsible for moving the load, broker or carrier, will confirm pick-up and delivery appointments for all stops.



Dispatched: A driver and truck are assigned to the shipment



Picked Up: The shipment is loaded onto the assigned truck



In Transit: The driver makes his or her way towards the delivery and provides location updates to the customer until shipment is delivered



Delivered: The shipment is received at the final destination



Documents Received: A bill of lading (BOL) is provided to confirm the load was received in good condition with all pieces accounted for. Any overages, shortages, or damages (OS&D) are reported on the BOL


Billing: The carrier compensated for their services after it is confirmed that the shipment is complete
12. Industry News & Publications
newtrul in the News

These are some of our favorites publications for industry related news:

13. Glossary
Need help with industry jargon? We did, too. Check out this glossary from Inbound Logistics to find definitions and explanations for hundreds of logistics terms.
14. About newtrul
Background: What happens when an industry veteran, a military veteran, and a technology expert walk into a bar? No, this isn't the punchline to a bad joke, but it is how newtrul was born. With over a decade of experience in the transportation industry, Ed Stockman is well versed in the challenges faced by brokers and shippers, as well as the opportunities introduced by the recent influx of technology solutions. When he noticed his colleagues and clients trying to book their daily loads by sifting through spreadsheets filled with hundreds of login credentials, he knew there had to be a better way. Ed enlisted the help of his process-driven best friend, John Tozer, and Goldman Sachs alum, Shiv Sinha to launch newtrul: a freight aggregation platform that cuts out the extra steps to save users time and money on their freight booking journey.
Objectives: Our goal is to be the force driving fairness and neutrality in one of the most crucial processes in the industry: booking freight. Over the years, this process has become time-consuming, expensive, and overly complicated! We believe that by sifting through the noise and simplifying the workflow, we can help shippers, brokers, and carriers alike run more efficient and profitable businesses.
How it works

Carrier Platform: newtrul's carrier platform is 100% free and allows carriers to search and book available loads from all of their customers in one place. By consolidating their customers' freight into one platform, carriers can save time by avoiding excessive calls, emails, and independent load portals otherwise required to find these loads.
Client TMS Integrations: newtrul integrates with most Transportation Management Systems to pull available shipments into the newtrul carrier platform. Once a carriers books a load in the newtrul platform, the booking data (rate, driver and carrier information) is sent back to the TMS and the load is updated in real-time
Key Partnerships: We've partnered with companies across the industry to help us facilitate the smoothest possible newtrul experience. We believe the only way to be a truly neutral party is to understand the needs and offerings of all types of logistics businesses. A few of our notable partners include:

McLeod TMS
Mercury Gate TMS
Rose Rocket TMS
LiVe Logistics
The Founders


Ed Stockman, CEO and Co-Founder: Ed is a dynamic leader who has helped create revenue models, scale businesses and close enterprise accounts. He started his career at Echo Global Logistics as a sales rep before moving on to help smaller, local Chicago brokerages expand their sales efforts and drive momentum. Most recently, Ed was head of sales for Transfix, a digital freight brokerage based in NYC that raised over $75M during Ed's tenure. Ed left Transfix after hearing a need for a brokerage alternative from enterprise shippers. He founded newtrul in October 2018.
John Tozer, COO and Co-Founder: John is an operational and training specialist with 12 years of military experience and 5 operational deployments. As a naval officer and aviator, John has led small, elite teams of 8 to 10 people on operational missions as well as enormous, multidisciplinary teams of 5,000 plus people during multinational exercises. His military honors include Wing Pilot of the Year 2013, Wing Tactician of the Year 2017, Tactical Development and Evaluation Officer of the Year 2018, as well as Seahawk Weapons and Tactics Instructor Course graduate 2015 (the navy helicopter equivalent course to the prestigious TOP GUN course). His ability to understand complex problem sets, implement systems and processes to handle the problem sets, and develop and lead the team that executes on the problem sets has proven invaluable.
Shiv Sinha, CTO and Co-Founder: Shiv is a proven technology leader who is passionate about building and scaling tech products and organizations. He has 15 years of experience within the financial services/investment banking industry across numerous domains including implementation of marketplace technologies: high-frequency trading and derivative execution platforms. He has a historical record of seeking out and performing in high growth projects. In his most recent role as the Head of Application Development, he launched a Goldman Sachs multi-billion dollar consumer deposits business with millions of users.